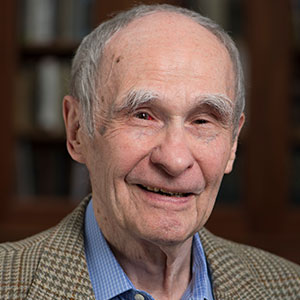 Louis Galambos is Past-President and a Principal of the Business History Group. Dr. Galambos is a Research Professor of Business and Economic History at Johns Hopkins University. He is the editor of The Papers of Dwight David Eisenhower, and he recently published Eisenhower: Becoming the Leader of the Free World.
Professor Galambos received his B.A. in History from Indiana University, and his M.A. and Ph.D. from Yale University. He was the Harvard Business School's first Business History Fellow.
A past president of The Economic History Association and the Business History Conference, Galambos has written extensively on American business in the 20th and 21st centuries. His many articles and books include The Rise of the Corporate Commonwealth: U.S. Business and Public Policy in the Twentieth Century, The Creative Society, Networks of Innovation, and Values and Visions: A Merck Century. He has served as an author, editor or consultant for books dealing with AT&T, Rohm and Haas Co., RCA, DuPont, General Electric, Alcoa, The World Bank Group, Air Products and Chemicals, and AirTouch, as well as Merck & Co., Inc.
DISCOVER
YOUR PAST
TO IMPROVE
YOUR FUTURE.